Softnyl - translucent Nylon monofilament sewing thread.
Monofilament threads are composed of a single filament, which is comparably hard and stiff. The threads have a glossy appearance and smooth surface. Used in many sewing applications such as carpets, linings, umbrellas, curtains, blinds, upholstery and furnishings.
Softnyl Nylon monofilament is sold by weight on large spools. Available in Smoke or Natural (invisible) and in a range of thicknesses from the finest 150 denier (ideal for blind stitching of household textiles) to the thicker 720 denier, suitable for carpet overlocking.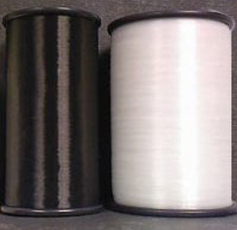 For more information, phone 0800 50 40 60, or (09) 527 4017
or click here to send us an email.

Copyright Caudwells 2010.