Smooth surface structure, specialised lubrication and twist construction ensure top performance, high seam strength and excellent appearance even when used at high sewing speeds.

Durafix has high resistance to abrasion and UV, it is also invulnerable to chemical effects and outside weather conditions.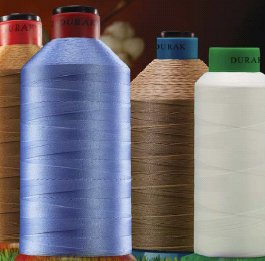 Wide colour range is available in many tickets; such as Nm 10 or thicker, right through to the finer 80.

Ideal for use in the manufacture of belts, bags, suitcases, shoes, boots, all types of leather items and sewing of medium to heavy fabrics.

Shade cards and technical information available on request.

Click here to view the Durafix infomation PDF.